7 Fitness Gift Ideas Any Workout Enthusiast Will Love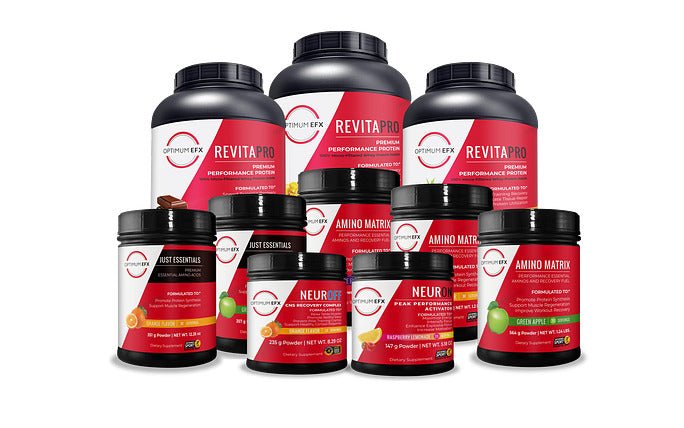 Are you looking for fitness gift ideas? Whether you need workout gifts for Christmas or just because don't miss these ideas for the fitness enthusiast in your life.
1. Protein Powder
Whether someone you know is trying to gain muscle or lose weight, protein powder can help a person reach either goal. Protein supplements can also help curb hunger, especially for sugary holiday treats.
Show the person in your life you care by purchasing super-clean protein RevitaPRO. RevitaPRO contains 23 grams of muscle-building protein and just 100 calories per serving. Optimum EFX formulated this protein supplement to be fast-absorbing and easy to digest. Plus, this protein powder contains no soy, added sugars, artificial colors, or artificial sweeteners.
RevitaPRO is available in three delicious flavors: Vanilla Bean, Chocolate Fudge, and Tropical Blast. Can't decide which flavor is the best fitness gift idea? Buy all three for supplement gifts anyone will be thankful for!
2. Gym Clothes
For many people, they're ready to start working out once they're in their gym clothes. As you know, these clothes can quickly lose their shape and become uncomfortable. So, why not surprise someone with a new shirt or gym shorts?
Whether your gift recipient prefers plain styles or something bright and colorful, you'll find plenty of fitness gift ideas while searching for gym clothes. Surprising someone you know with a new gym outfit is always welcome.
3. Pre-Workout Supplements
Another great choice for workout gifts for Christmas is a pre-workout supplement. These products typically contain blends of caffeine, amino acids, and other ingredients to boost energy and supercharge workout performance.
Give the gift of incredible workouts with NeurON: Optimum EFX's signature pre-workout supplement. This supplement can help anyone feel a cognitive boost and increased energy levels. NeurON contains scientifically proven ingredients, including:
Acetyl-L-carnitine:

 

Known as ALCAR, this ingredient promotes energy at a cellular level, prevents nerve cell damage, and boosts nerve cell function.
TeaCrine:

 

Works with caffeine to enhance its energy-boosting properties
Huperzine A:

 

Maximizes muscle-mind connections by inhibiting glutamine-induced cytotoxicity and promoting dendrite outgrowth
Alpha-GPC: Promotes strength production and normalized nerve transmissions in smooth, skeletal, and cardiac muscles.
Natural caffeine:

 

NeurON uses natural caffeine from tea leaves to provide energy without the sleep-inducing crash.
Is the recipient of your supplement gifts not a fan of caffeine? Check out NeurON SF, a stimulant-free pre-workout supplement. NeurON SF contains NeruON's proven ingredients without any caffeine.
4. Amino Matrix
Most gym rats will tell you that post-workout recovery is important. And they're right. A great way to help someone recover from long bouts of weightlifting, jogging, and other exercises is with an amino acid supplement. The same supplement that makes for a great fitness gift idea.
Optimum EFX created Amino Matrix as an ideal way to get the amino acids healthy bodies require. Available in Grape, Green Apple, and Orange flavors, this is an excellent supplement gift that the fitness fanatic in your life will love.
Amino Matrix is an intra-workout and post-workout supplement packed with amino acids, including:
L-Leucine
L-Lysine
L-Isoleucine
L-Valine
L-Phenylalanine
L-Histidine
L-Aspartic Acid
Plus, Amino Matrix is a part of Optimum EFX's "ZERO" promise. This promise is that each of our supplements contains:
No artificial flavors
No artificial sweeteners
No artificial colors
No substances that are banned in professional or Olympic sports
Our "ZERO" promise lets you know you're purchasing clean supplements, and anyone who receives workout gifts for Christmas will appreciate that these are designed to help them achieve their best results.
5. Workout Notebooks
People achieve the best workout results by tracking what they do in the gym. Monitoring personal weightlifting records, reps, or time spent on a treadmill can be a great source of information. Tracking workout results can also help people set and achieve their fitness-related goals.
Most individuals don't want their smartphones covered in sweat. It can also be a pain to switch in and out of fitness tracking apps while exercising. A way to solve these problems and track fitness progress is with a workout notebook. 
Great workout notebooks contain pre-made blank areas using exercise-related terms. Wrapping up a few of these notebooks is a great fitness gift idea for the goal-oriented person in your life.
6. A Gym Bag
Achieving excellent workouts can mean packing and transporting supplements, gym clothes, and more. If you need fitness gift ideas, a new gym bag is the perfect present. Gym bags are incredibly convenient and helpful for keeping someone organized. These bags also keep stinky gym clothes from odors permeating a car or home.
A gym bag should have plenty of space for any fitness enthusiast's clothes, supplements, and other essential workout items. Plus, most are stylish enough to serve as stylish bags for everyday use.
7. Earbuds or Headphones
Studies show that listening to preferred music while working out improves endurance. But it's not easy to get that boost using low-quality earbuds or headphones. As you know, old headphones and earbuds can accumulate sweat, earwax, and bacteria.
You can find many budget-friendly ways for someone to enjoy their favorite workout playlists. If you know someone who works out with old headphones or earbuds, you'll be the hero of their holiday season when you get them a new pair. 
Crush the Holidays With
 

Fitness Gift Ideas

 

From Optimum EFX

Don't stress out about the upcoming holidays. Take some inspiration for our holiday gift ideas. And when you need to give the gift of supplements, shop at Optimum EFX. Every Optimum EFX supplement is Informed-Sport Certified, meaning they're free from all known banned substances in Olympic and professional sports. Start shopping for the perfect supplement gifts by checking out Optimum EFX. While you're there, consider purchasing a few supplements for yourself.