Certified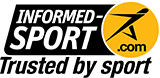 SUPPLEMENT FACTS
Speeds Recovery
Facilitates Tissue Repair
Optimizes Protein Utilization
Promotes Muscle Growth
Pure Micro-Filtered Whey Protein Isolate
Tastes Great
NO Artificial Sweeteners or Colors
Mixes Instantly
Contains a Natural Balance of Whey Protein Fractions
By ordering our premium RevitaPRO performance protein today and including it into your nutrition and training program, you can assure yourself that you have chosen the best and highest quality Informed-Sport Certified Whey Protein Isolate powder on the market.
OUR "ZERO" PROMISE
All Optimum EFX products are free of every known banned substance in every professional sport. Additionally, we use ZERO artificial flavors, ZERO artificial colors, and Zero artificial sweeteners.
1st place all around protein
Formulator does it again. You can always count on optefx to have best ingredients and sourcing from highest quality manufacturers.
From the taste, to easy mixing, and G.I. friendly, this is what I prescribe to all my athletes and executive clients. Another winner!!!